The original Xbox One had a pretty rocky start to life. 
It launched with a compulsory accessory (the Kinect), that received a lukewarm reception, and its set-top box capabilities that weren't important for gamers. 
Microsoft has remedied many of these problems with the more recent , which features compatibility and an Ultra HD Blu-ray player.  
With the new console now out, are there still reasons to consider its older brother considering how big and bulky it now looks in comparison? In short: yes. 
The first reason is price. With over a hundred dollars separating the two consoles, those on a budget stand to save a significant amount of money by opting to by the One over the One S.
Yes, you'll be sacrificing some of the advanced features like 4K output, but if you don't have a 4K TV then there's little reason for you to bother.
You have even more reason to stay with the original Xbox One if you're a fan of Microsoft's Kinect, which divided opinion when it was included with every Xbox One upon the console's initial release.
The reason for this is that the One S doesn't include a Kinect port on its rear, meaning that you'll have to buy an adaptor if you want to use your camera accessory.
It might not be perfect, but it's far better than the system Microsoft once pitched us on: an always-online console that would have allowed for disc-less play, easy game sharing on other owner's consoles, mandatory system scans and an end to second-hand purchases as we know them.
With a refreshed interface and improved functionality, Microsoft's all-in-one system is taking on the PS4 head-on. Recent improvements like a new guide button that allows for easier and faster access to party chat and achievements, alongside a boost in responsiveness and more integrated community pages are empowering the system to fulfill its destiny as the epicenter of our home entertainment cabinet.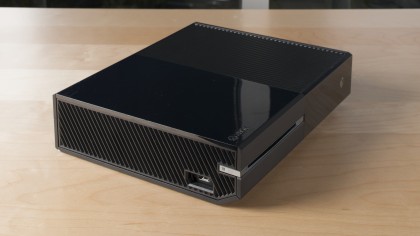 Xbox One Specs
CPU:
1.75Ghz AMD Octocore
Memory:
8GB DDR3 (2133MHz)
Storage:
500GB
Best features:
Game DVR, OneGuide, Snap, SmartGlass, EA Access, Sling TV
Price:
$349/$449 (with Kinect)
Over 20 million gamers have bought into the Xbox One philosophy so far, a number that would be really quite impressive were it not for the PS4's frankly incredible record-breaking tally of 35 million units sold worldwide.
Regardless of where you stand on PS4 vs Xbox One, it's important to understand that the Xbox One is not just a games machine; it's a clever and powerful media hub designed to sit at the center of your digital home. It offers a unified interface for your choice of cable services alongside music, movie and cable streaming options, Skype chats and more, and integrates seamlessly with Windows 10.
Over the last two years, we've seen a slew of updates that have radically changed how the system works, almost all of which have been for the better.
But before we talk about where the system is going, let's reflect on where it came from. The Xbox One release date was November 22 2013 both here in the US and 12 other launch markets – Australia, Austria, Brazil, Canada, France, Germany, Ireland, Italy, Mexico, New Zealand, Spain and the UK.
It launched to a tepid audience, one that had real concerns over what the Xbox One could do that the aging Xbox 360 could not. But, thankfully, Microsoft didn't pull the plug on its all-in-one console.
The system continues the Xbox 360's trend of placing an impetus on platform-exclusive IPs, even in a changing gaming landscape where fewer and fewer developers want to commit to a single console. Most of that comes from inside Microsoft, but there are plenty of third-party developers like Turn 10 Studios, Insomniac and 343 that have committed long term to Xbox One.
Thanks to exclusive partnerships between Microsoft, DISH and EA, the Xbox One gets console exclusivity for Sling TV and trials of EA games five full days before they launch. It's the only system to have EA Access, EA's value-added game program, and the NFL app that allows you to keep tabs on your fantasy team while watching the game.
In other news, Microsoft has also dropped Xbox One's sticker price to just $349 going forward without Kinect, which stings for those of us who dropped the five benjamins on the system and its "completely necessary" peripheral 12 short months ago. But, financially speaking, the move makes sense. The lower barrier of entry should drum up the extra business the console desperately needs in order to climb back to the top of the totem pole.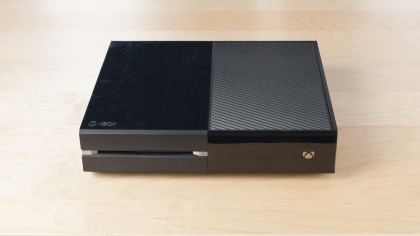 Are you ready to get your gamertag and join the green team? Read on to get our full thoughts and opinions on Microsoft's all-in-one entertainment machine, one year in the making.
Design
We've gone one full calendar year without Microsoft making any major tweaks, fixes, or modifications to the Xbox One's initial design. Companies like Nyko, PDP and Power A have come along to offer additional products like intercoolers and clip-on charging stations, but Microsoft's rock-solid design has stood the earliest test of time.
Measuring in at 274 x 79 x 333 mm (L x H x W), the Xbox One's sheer size and girth harkens back to the original Xbox, an imposing black plastic beast covered in black plastic ridges. It's taller, wider and heavier than the PS4 (8 lbs compared to 7.1), and has opted for a pure rectangular design rather than copying Sony's parallelogram. You'll also have to make room for its external power adapter, a feature inherited from the Xbox 360. A common feature on both systems, though, is the button-less design: both the power and eject spaces are touch-capacitive.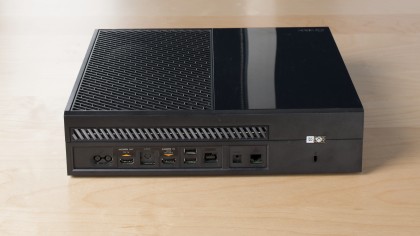 At first glance it looks almost identical to an audio receiver. Which is ironic, as Microsoft's jet-black console would very much like to replace that as the center of your home entertainment system. The top of the system is where heat gets dissipated while the two sides host ancillary grilles and a single USB port. Flip the machine around and you'll see a plethora of ports. It has all your standard nodes: Ethernet, HDMI-out, power, S/PDIF (commonly used for optical audio), dual USB 3.0 ports and an IR out. Additionally, there are two proprietary ports, one for hooking in the Kinect, and an HDMI-in, which is how you feed the Xbox One a TV signal from a cable box. But if have plans to use the Xbox One's HDMI-in to hook in another console, forget it. The HDMI-in can function as a passthrough and let any old HDMI signal in, but this introduces a lot of input lag, making it no good for hooking in another system.
Kinect
If the Xbox One leaves behind one memory in gamers' minds, it will likely be of the Kinect. Some love it. Some hate it. Others still don't get what it is and why it was necessary. No matter what camp you fall into, Microsoft has given you a choice whether you want Kinect in your home. Starting in June, the Kinect became an optional peripheral rather than a mandatory pack-in. Buying an Xbox One without a Kinect not only saves you $100 off the sticker price, but also frees up an extra 10% of processing power in certain games that was reserved for image processing.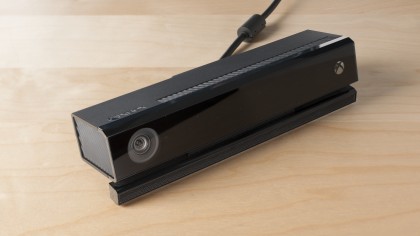 For awhile after launch, we stood by Microsoft's decision to keep Kinect, the all-seeing eye that allows you to shout voice commands, video chat and play full-body games, included in every box. We were told how crucial it was going to be to the next-gen experience and how innovative games were being developed that leveraged the new technology. And for about six months after launch, we believed it. Then the decision came down to cut Kinect from the basic package and instead of dozens of new, ground-breaking games, we got Disney Fantasia: Music Evolved.
There's still a showroom factor when you use Kinect. And yes, voice commands do sometimes help to navigate around the Xbox's cluttered, convoluted interface. But at the end of the day, this mandatory pack-in is more hassle than it's worth. Apparently, Microsoft thinks so too.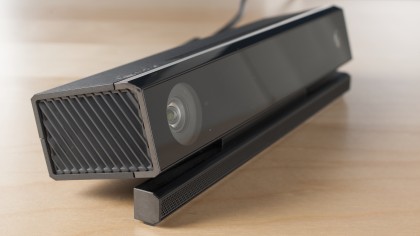 Xbox One specifications
Microsoft's bid for living room supremacy is powered by an AMD processor, backed by 8GB of DDR3 memory and 32MB of ultra fast ESRAM. For storage, most consoles come with a 500GB hard drive to keep your media, gameplay videos and game installs, though some special editions have started to pack-in a 1TB drive instead. But, unlike the PS4, there's no swapping out that mechanical drive for solid state and even attempting it will void your warranty.
Whether the system is ultimately faster than the PS4 is up for debate. The only thing we know for sure is that several games currently play in 1080p on PlayStation while only achieving 720p or 900p on Xbox. Times are changing, though. Because Microsoft dropped Kinect, Xbox has an extra 10% of memory space available to use in future games. But, less clear however, is the role DirectX 12 will play in future releases. There's skepticism on both sides of the aisle in whether it will actually change the overall resolution of games, or if we'll just get a small bump in load times.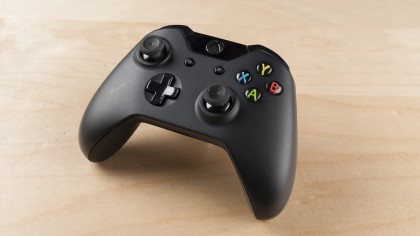 Features
Microsoft captured the zeitgeist of the 21st century in the Xbox One. It's a connected system that, if you let it, can touch every area of your life, from your social habits to your media preferences and everything in between. The best features on Xbox reflect that philosophy: Game DVR lets you record, edit and share your "dude! Did you see that?" moments, while Xbox OneGuide will cull your thousand-or-so channels of cable to five or six recommended shows.
Every month, the team adds to these technologies and the choices Microsoft is making seem deliberate. In the time since last year, the Xbox has gained a Friends section on the home screen, DLNA support, as well as improved Snap functionality. Achievements are now easier to access and we've seen the return of our digital avatars from the Xbox 360. Recently, Microsoft has made the push to connect Windows 10 PCs and Xbox Ones by giving the former the ability to stream games over a home network and has finally released the screenshot feature PS4 has had since launch. There have been some downturns in that time, too, but by and large Microsoft's media dream machine is making a comeback one first-party exclusive at a time.
What's in the box?
The biggest change from last year is that today Xbox One comes in two flavors, with Kinect or without. Either package will come with a power cable and adapter (aka the power brick), a headset adapter, a throw-away headset (seriously, buy a replacement from Turtle Beach ASAP), an HDMI cable and controller with batteries, but you won't get a Kinect unless you pony up an extra $100. You'll also get a 14-day free trial of Xbox Live Gold which will net you at least one game for free as soon as you turn the system on.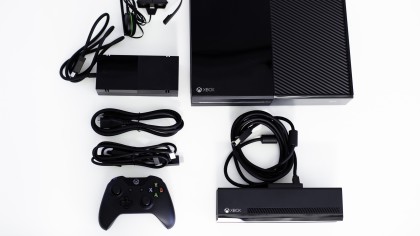 Setup
Setting up your brand-new Xbox One has remain almost unchanged since its launch last year, and is best described as simple and long. Simple in the sense that all you'll need to do is follow on-screen instructions to set up a Microsoft account and agree to few terms and conditions, but long in that the initial update, which is mandatory before you do anything, will take anywhere from 30 minutes to three hours depending on your connection speed. There's been quite a few firmware updates since launch, too, so it's better to start installing this stuff right before bed so that you can jump in early the next morning.
And if you plan to watch TV on the console, you'll want to run an HDMI cable from your cable box into the system's HDMI-in port. You'll then need to run the OneGuide's setup, which isn't too complex, but we'll get into that in just a few minutes. Also, it should be noted that its online requirement, which threatened to lock up the system without a daily server ping, has been dialed way, way down. Out of the box, your Xbox One will need to download a day one patch before you even arrive at the homescreen. After that, however, you can cut the Ethernet cable or smash your router; there's no further online connectivity needed for single player gaming. That doesn't mean you won't want that Internet connectivity to make the most of your console, but having a system that works entirely offline is a viable option.
Snap
Snapping is the Xbox's catchy name for multitasking, and has been the target for some of the system's biggest patches since launch. Snapping lets you run two Xbox One apps at once, giving a third of the screen to one app off to the right, and the rest to your primary engagement. It's a good way to do a little Internet Explorer browsing while you wait for a friend to join your game, but beyond that it can be straining on the eyes unless your TV or projector screen is very large.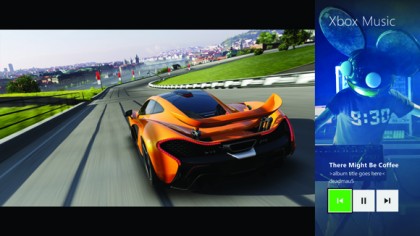 Before this year in order to "snap" an app you needed to exit what you were doing, find the app you want to snap, press and hold the menu button and select the snap option. Unsnapping required a nearly identical process: Leave the game, find the app running on the right side of your screen and then unsnap it. Finally, thanks to Microsoft's October system update, we have finally seen a streamlined process. Essentially, double tapping the Xbox jewel button brings up a thumb stick-enabled Snap menu. Press left and you'll move back to your primary application. Pressing right specifically brings up achievements, while up brings you to the home page to choose any of your other applications. Down, as you might've guessed, closes the Snap and resumes your main application.
Kinect makes it even easier, allowing users to simply say "Xbox snap Skype" to get the side by side feature working. It's also much easier to just say "switch" for toggling between the two rather using the controller. While it's impressive that the Xbox One's hardware is capable of juggling all this without a drop in gaming performance, it comes off as something you can do, but not something you'll actually want to do, at least very often.
Xbox OneGuide
One of the Xbox One's best features is its ability to integrate with your cable or satellite feed thanks to an HDMI-in port. Anyone who's had cable installed in their home probably shudders at the thought of fooling with that precarious mix of coaxial and HDMI, but fear not, setting it up is easier than finding your cable company's service number.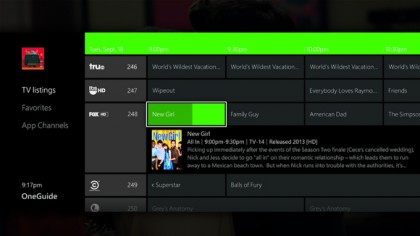 After connecting your cable box to the Xbox One via HDMI there's a setup wizard to take you through all the steps. All you need to know is your service provider and zip code. Punch that in and the Xbox does the rest.The result is the OneGuide, live TV on your game console organized a lot like your cable's built-in menu. It can be navigated just like the One's general interface, with speech, gestures, the controller or Smartglass.
Once you're set up you'll be able to use OneGuide like a TiVo mixed with a top-tier set-top box. You can use it to set reminders for your favorite shows or, if you're not feeling up to finding something for yourself, get a list of recommended content based on what's trending and past viewing preferences. It's powerful, smart technology that truly integrates the Xbox into the media center in a way that it never was before.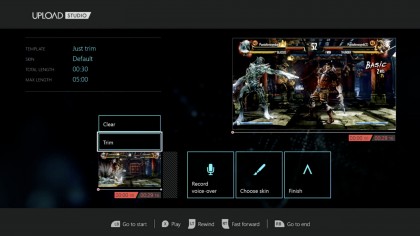 Game DVR and Live streaming
Being able to record native gameplay, without the use of an added peripheral, is something new to this generation of consoles. Both the Xbox One and PS4 are able to record, edit and share your favorite moments with your friends, but only on Xbox One will you be able to use Upload Studio to send files directly to the cloud. That may not sound like a big deal, but having the ability to manipulate the raw video file on a PC instead of having to make edits inside half-baked video editing software makes a world of difference to wannabe YouTube stars and anyone interested in starting their own "Let's Play" channel. Upload Studio has a simple suite of tools, and allows you to record a voice over commentary. Moreover, you can use Kinect's video recording ability to place yourself in the video, picture-in-picture style.
However, getting raw gameplay footage is tricky. Unlike the PS4, which keeps a running archive of your last fifteen minutes of gameplay, the Xbox One only records the last 30 seconds. To save it to the hard drive you can say "Xbox record that" to Kinect and a 720p recording of your last half-minute of gameplay will be stored to OneDrive.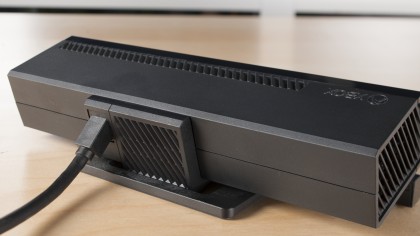 A more recent addition to Xbox One's firmware modified the 30-second rule, but requires Game DVR to be snapped while recording. Regardless if DVR is snapped or not, one feature that is unique to Xbox One is that games can be programmed to automatically engage the DVR. Battlefield 4, for example, records when you rank up or earn an achievement and EA Sports UFC automatically saves footage of your best knock-outs.
At one point the only way to see this plethora of video content was to see friends' shared clips in your activity feed. Those feeds were rather buried though, so chances of finding your friend's footage wasn't likely unless they gave you a heads up of what to look for. Now you're able to embed your favorite gameplay clips directly into your gamer profile, in what Microsoft is calling your "showcase."
Showcases contain clips, achievement or pictures that you find to be the most representative of your personality and works as a great differentiator to the all-too-similar profile pages we're used to seeing.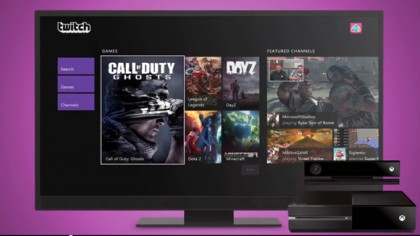 The last feature worth pointing out in regards to video capture is live streaming, a capability the Xbox One was missing one short year ago. Setting up a stream is as simple as it is on a PC, and only requires you downloading the Twitch app and connecting it to your account by signing in. Once paired, you'll be able to stream gameplay and use the Kinect sensor as a quasi-webcam for users to be able to see and hear you. Watching Twitch is just as easy as streaming it, thanks to updates to the GUI that allow you to sort content by parameters like kill-death ratio in first-person shooters, highest combo score in fighting games or even incredibly niche values like Grimoire Score in Destiny.
SmartGlass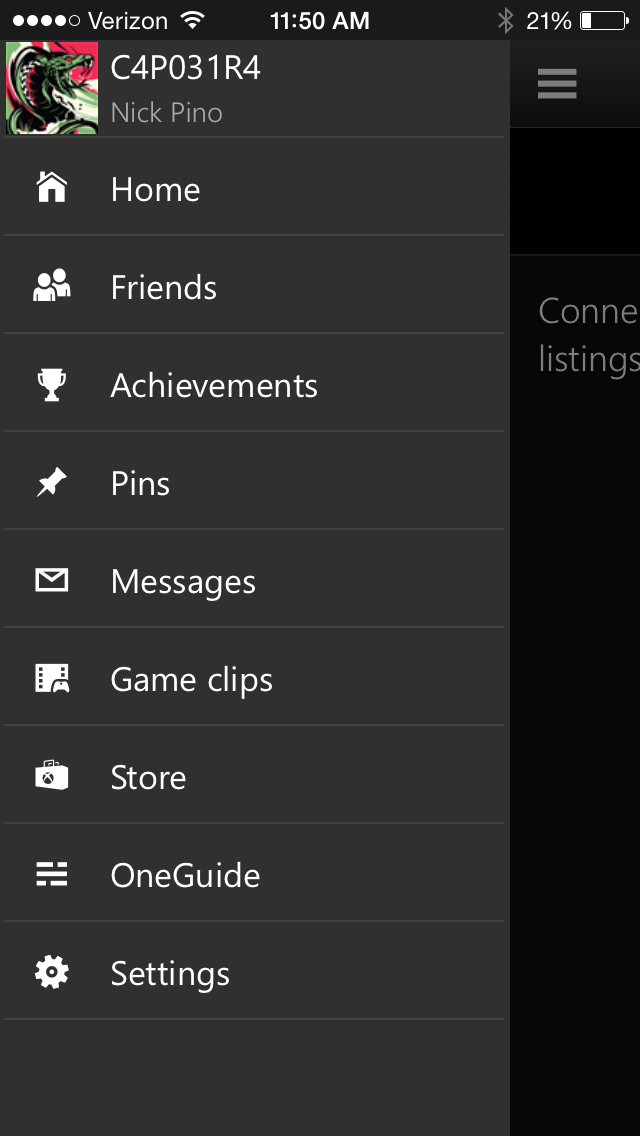 Smartglass is the Xbox's second screen experience. It was introduced on the Xbox 360 and lets you navigate menus and see system information on your tablet or smartphone. The app is back for Xbox One, and has greatly improved functionality. You can now launch apps from the second screen, and make purchases and start downloads on your home console while you're out and about. If you're a member of Xbox Live Gold, you can even use Smartglass to view this month's free games and, if you're Xbox is set to "remote startup," can start downloading them while you're out and about. Several games now have complimentary companion apps of their own.
Smartglass is an incredibly versatile program that keeps you connected to your online friend community when you can't be right in front of your console. It's an addicting addition to your smartphone – it's available on both iOS and Android devices – and, best of all, it's free. The Windows 8 Smartglass app has its own special features. You can throw a browser page from the console directly onto the screen of your W8 device and use it to pull up extra information on actors from Netflix in real-time while watching a movie.
EA Access
Announced in late July, EA signed a contract with Microsoft giving the Xbox One a publisher-specific download platform that gives gamers access to a vault of valuable titles and first dibs on upcoming demos. The service, called EA Access, costs $4.99 a month or $30 per year and currently has FIFA 14, Madden NFL 25, Peggle 2, Need for Speed: Rivals, Plants vs Zombies: Garden Warfare, EA Sports UFC, Battlefield 4 and the terrible, horrible, no good, very bad, bad NBA Live 15 available for download.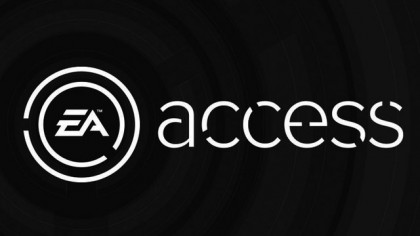 Whether or not Access is a selling point for you largely depends on how many of the publisher's titles you play, and if you're willing to shell out another $30 per year on top of paying for Xbox Live Gold service. Still, if getting five days closer to the next Mass Effect game and the eight or so titles seem appealing, EA Access is well-worth its upfront cost.
Beloved the world over for its comfortable layout and dependable Bluetooth connection, the Xbox 360 controller became a gaming gold standard. For the Xbox One, Microsoft has given it an overhaul, and it's mostly for the best.
Same goes for the Kinect. It never got the adoration of the 360's gamepad, and was often accused of being a gimmicky, "me too" by Microsoft after the Nintendo Wii kicked off a motion control craze (Sony had its own attempt – remember the PlayStation Move?).
This time around, Microsoft still hasn't built a lot of games around the Kinect. Instead, it's been integrated into the console's interface. While you can choose not to use it, you'd be missing out on some of the most surprisingly fun, but occasionally frustrating, features of the Xbox One.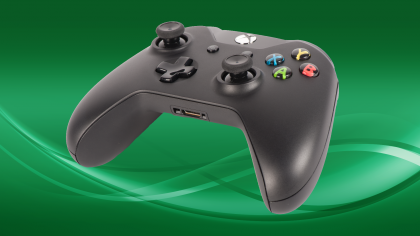 Controller
The Xbox 360's controller was widely regarded as the best all around console gamepad. Its natural contours, well placed triggers and asymmetrical stick layout made it comfortable and the right fit for games of all kinds.
Moving from the 360 to the One, Microsoft has altered little about its signature controller. The most noticeable change is the new position of the Xbox button, which is now at the top rather than in the middle, making it harder to hit by accident.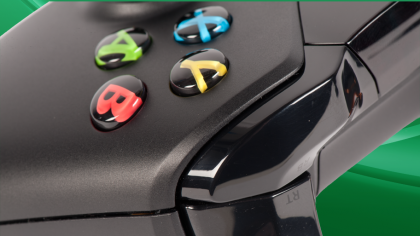 Basically, Microsoft chose not to mess with a good thing and stuck to improving the existing design. It's now lighter, with a matte finish that feels sleek in the hand. The analog sticks are extra grippy thanks to textured rubber.
There's also force feedback in the triggers, letting you feel the kick of a gun or the rumble of off-road driving right in your fingers. Right now it's a bit of gimmick, but you never know what some clever developer might do with it.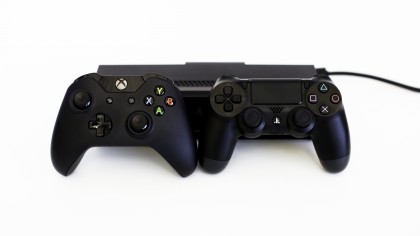 Comparing the two side-by-side, we prefer the Xbox One's controller to PS4's DualShock 4. However, Sony's controller has a few features we wish Microsoft would had adopted.
The Xbox One is still using AA batteries for power, while Sony has been building a rechargeable cell right into its controller since the DualShock 3. Microsoft sells that functionality separately in the form of the Play and Charge Kit. At $25, it's asking a lot, since extra controllers are already $60 a pop.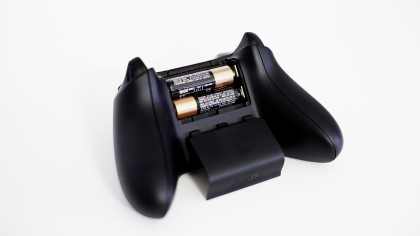 The Xbox One's controller doesn't have any motion features, unlike the DualShock 4, which basically has Move built right in. It's forgivable since some packages come with a Kinect, but we do think that the PS4's touchpad gives it an edge, both for casual gaming and manipulating big inventory screens.
Overall, the Xbox One controller is an improvement in every way except one: the shoulder buttons. The actions on the Xbox One's bumpers are less taught. It makes for a flimsier click, which is a real shame, since the One controller trumps the 360's build quality in every other way.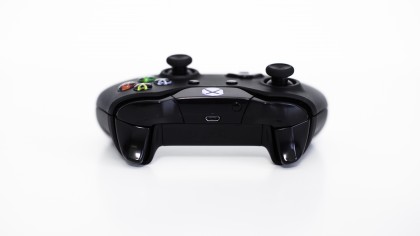 With the exception of that annoying flaw, the Xbox One has a really excellent controller. It's a pleasure to hold, the batteries last just as long as the last-gen version and making black the standard color was a wise choice, since it won't discolor as readily as the 360's white model.
Xbox Elite Wireless Controller
But Microsoft's original Xbox One gamepad isn't the only controller in town. At E3 2015, Xbox boss Phil Spencer had a new piece of kit to show off: the all-new Xbox Elite Wireless Controller.
Sporting metal components, four programmable macro buttons, interchangeable parts and customizable triggers, Microsoft's new piece of plastic has premium written all over it.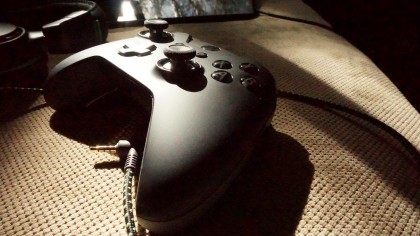 In our review, we noted that the Elite controller gives serious gamers – the ones who go through more than one gamepad a year – a solid option instead of choosing a third-party remote like they've had to do in the past. The ability to change thumb sticks from a concave top to a rounded shape is appreciated, and the ability to cut the registering distance of the triggers in half is a nice touch for fans of first-person shooter and racing games. You can also customize the paddles (along with every other button on the controller) via the new Xbox Accessories App, available on the Xbox One.
Two downsides we noticed were that the paddles can't be programmed to handle a string of commands and that Microsoft refuses to include a $25 play-and-charge kit, despite the Elite costing a whopping $149 (£129, AU$195).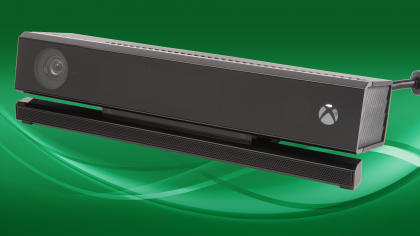 Kinect
The Xbox One's Kinect is a combination camera and microphone. It lets the system see you, hear you, react to your commands or just your presence. It also has an IR blaster that can interact with your TV and other appliances.
Physically, it's bigger than the Xbox 360's Kinect. It's wider, heavier, more rectangular and cannot be mounted to the top of your TV, at least not as-is out of the box. Also, unlike the 360's Kinect, it doesn't move on its own to keep you in frame. Microsoft has replaced that slightly unnerving feature with an optical zoom. The Kinect can be manually tilted, but you only need to do so during the initial setup.
There's a wizard that makes calibration quite painless and only needs to be repeated if you make major changes to your living room setup. The first time you run it you'll introduce Kinect to your face. Once seems to be enough, the Kinect was shockingly good at picking people out beneath glasses and facial hair.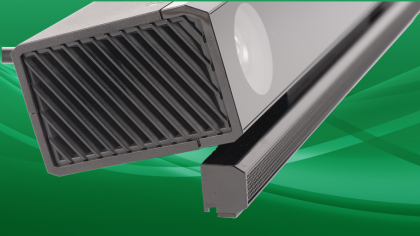 Some checks do need to be repeated if you move the Kinect: making sure it can see enough of the floor and that the mic is tuned to hear you. The system will ask you to crank up your speakers so it can blast a few notes for a sound check. This makes sure Kinect can hear you over the TV. This whole setup process takes less than five minutes.
The Kinect sees you and hears you, letting you navigate menus with your voice or gesture commands. Being able to go from the first Home screen to your pins with a wave is nice, but beyond that the onscreen hand cursor is more trouble than it's worth. It's twitchy and doesn't recognize a "press" very well.
For voice commands, the Kinect's mic can reliably hear you over TV audio, but conversation and background noise gives it trouble. It's best used when there's little going on in the room besides playing Xbox. You also need to stick to rather rigid command syntax so it understands you.
Everything you say has to begin with "Xbox." "Xbox go to Forza Motorsport 5" will launch said racing game. It sounds simple enough but you'll find plenty of ways to trip over it. For example, saying play rather than go to, or Forza instead of the game's entire name. Kinect is no Siri when it comes to interpreting the way people actually talk.
A lot of the command phrasing isn't terribly intuitive either. For example, "Xbox on" turns on the system, but "Xbox turn off" switches it off. Forgetting to say "turn" or putting it where it doesn't belong usually results in no response from the Kinect.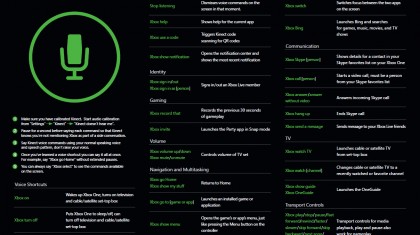 Hopefully Kinect's voice commands will improve and become less rigid over time. Siri and Google Now have certainly come a long way. As of now, Xbox One's interface jammed with tutorials and lists of phrases; Microsoft knows there's a lot to learn and it's doing its best to compensate. See a full list of Kinect commands here.
Kinect makes a lot of basic functions convenient and fun. Pausing a movie, returning to the home screen and switching between snapped apps worked quite well. However, anything beyond simple commands can quickly get frustrating. Using it to navigate to specific channels in the OneGuide is fraught with errors.
The least reliable command is ironically the most basic. We frequently found ourselves saying "Xbox on" several times before the system would come to life. While it would sometimes snap to attention at first utterance, we never what we had done right, or wrong.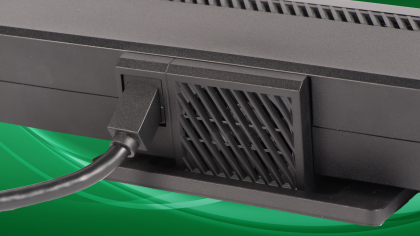 Also, while you can easily setup the Kinect's IR blaster to automatically power on your TV, it might be a good option to skip. If your TV is already on when you say "Xbox On," it'll turn it off. A lot of universal remotes have the same problem.
At its best the Kinect compliments the Xbox One's interface by giving you options. You can go between speech, gestures and controller input without even bothering to tell the Kinect "stop listening." The bevy of options is impressive, and amusing.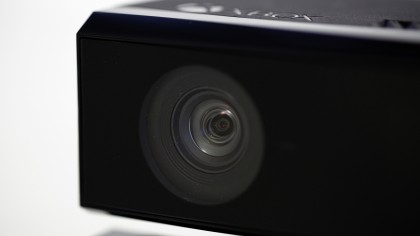 Don't think that the Kinect is ever not listening though. This thing can turn on the system, remember? It's basically in standby all the time. While we think that Microsoft has better things to do than monitor what people are up to in their living rooms, the idea of an always on microphone is a bit disconcerting in the era of the NSA.
Starting on June 9, Microsoft began selling Xbox One consoles without a pack-in Kinect for $399 (£350, AU$499 – the same price as Sony's PS4). There has been no price announced for a stand-alone Kinect, but that doesn't seem to phase most consumers. There could be whole articles written about how Microsoft has backpedaled on almost every facet of its original Xbox One design – some of which can be found on this website – but the fact that Microsoft has decoupled the Kinect from the Xbox One has proven that it is unessential to the Xbox experience.
Microsoft's bid for living room supremacy is powered by an 8 core AMD processor, backed by 8GB of DDR3 and 32MB of ultra fast ESRAM. For storage, there's a 500GB hard drive to keep your media, gameplay videos and game installs. Unlike the PlayStation 4, there's no swapping out that mechanical drive for solid state without considerable trouble, and letting your warranty fly right out the window.
Much like Xbox 360 before it, Xbox One got a much-needed front-end overhaul in the form of the New Xbox Experience that was first shown off at E3 2015, and launched to the public at the tail end of the year.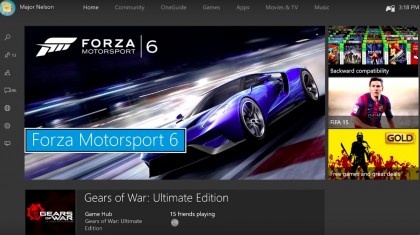 Here's our take from our freelancer, Dom Reseigh-Lincoln:
Two rocky years on from the console's launch, the Windows 8-inspired menus have done the much-maligned current-gen box no favours as it slowly begins to catch up to Sony's front-running PlayStation 4.
And while the New Xbox One Experience (NXE) isn't the revolutionary shake-up we were hoping for, it does address some of the key issues users have had since day one (including a cluttered approach to content layout and limited uses for pins).
More importantly, the new update takes full advantage of Windows 10, and turns using the Xbox One console into a far smoother and more intuitive experience than ever before. Microsoft says the entire operating system runs 50% faster – and while that figure isn't quite the reality, navigation feels noticeably faster and responsive.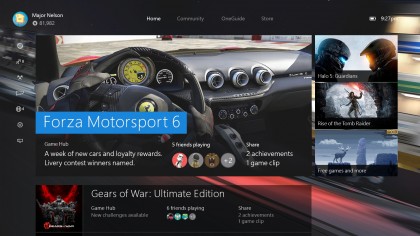 The New Xbox One Experience will enable cross-platform gaming for the very first time. In other words, if you're playing a game with competitive or cooperative multiplayer modes you'll be able to team up with players from PC-based servers.
The NXE also combines the Store and new content updates into one far more agreeable (and more importantly, simplified) version of the OneGuide, and finally adds a new side pane that smacks of the second (and best) Xbox 360 dashboard.
In between the Home and Store screen is the interface's newest addition – the Friends tab. Here you'll find out which games your friends have been playing – and any possible achievements that may have t'plok'd recently – as well as a gamerscore leaderboard that displays which of your friends has earned the most points in the past month.
To the right of the Friends screen is the Store. It's divided into Games, Movies & TV, Music and Apps. There's also a Bing search bar below it. The layout is attractive and the placement is unobtrusive. We're just glad that it's been relegated to its own screen, away from the more personal Home and Pins.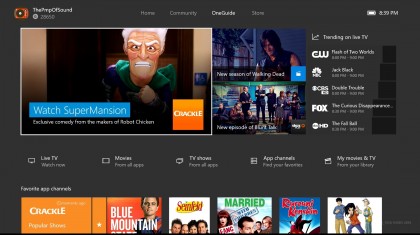 When you're in an app or game, returning to the Home screen is as simple as pressing the Xbox button on the controller. Games are automatically paused, while videos and live TV continue to play, creating a sort of picture in picture effect.
Of course, the whole interface can also be navigated by Kinect using voice commands. The Xbox One's interface does have its unintuitive moments, and the Kinect compensates for them nicely. We're not sure why Settings has been folded into My games & apps, but being able to shout "Xbox go to Settings" saves you from having to remember that.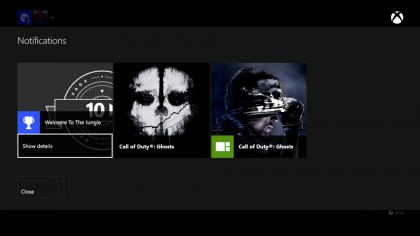 When it comes to booting up, the Xbox One is very fast because it doesn't really turn off unless you unplug it. Holding down the Xbox button and selecting console off really just puts it in standby mode.
Surely the Xbox One needs this hidden standby functionality both for better performance, and so the Kinect can listen for your "Xbox on" command. It does stand in contrast to the PS4, which lets you choose to either go into standby, or completely turn the system off. Fully shutting down your PS4 also locks you out of cool features, like PS Vita Remote Play, or starting a download from the mobile app.
Coming out of standby, the Xbox One takes only twenty seconds to reach the Home screen. Kinect will have you signed in by then as well, unless you're sitting too far back. We sometimes had to lean forward before it recognized us.
From a full, unplugged shut down, the Xbox One takes a less impressive minute and seven seconds. Honestly though, there's no reason why you should be frequently unplugging your Xbox One. We just think it's odd that console off really means standby.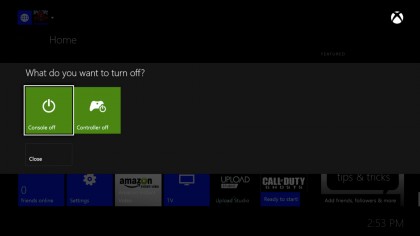 So while not every design choice is transparent, you can't accuse the Xbox One's interface of being sluggish. There's no pop in on the Home screen, and overall navigation is snappy. You can drill through menus and browse your library as quickly as you can manipulate the D-pad, or bark at the Kinect.
Multitasking is where the Xbox One really shines. The system keeps your last three apps suspended, letting you switch between them with nary a stutter.
What's surprising is how little is on the system when you first get it. When you first use your Xbox One you'll frequently click on a tile, only to discover you don't actually have the corresponding app yet. Out of the box, almost nothing is pre-installed. That makes sense for third-party services, but apps like Game DVR, Xbox Video, even the Blu-ray playing software need to be downloaded and installed.
It's not such a big deal, just a telling indication of how internet-reliant this new generation of gaming will be. Be sure get all your pertinent apps downloaded before having friends over to show off the new system.
Games
Every game on the Xbox One requires at least a partial installation before it can be played. These installs are lengthier than on PlayStation 4, but not by much.
For example, a disc copy of Madden for Xbox One needed six minutes to reach 25% installation before letting us on the gridiron. The PS4 version needed two minutes, and an additional minute to download a patch before online features were enabled.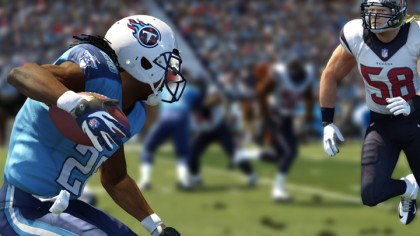 Installing isn't a major roadblock on either system, but it is something to anticipate. It's a good idea to pop a new game in the drive the minute you get home. That way you can be sure it'll be ready when you are.
Like the PS4, the Xbox One still needs a disc to play. That's a pity, as being to ditch a disc after an install would make for a much more self-contained feel.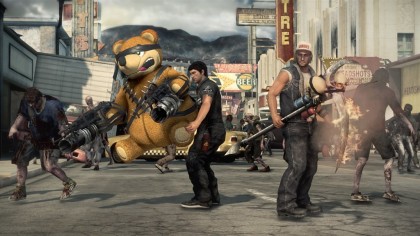 Getting to graphics and gameplay, a lot has been made of the fact that many third-party games run in full 1080p on the PS4, while the Xbox One versions are 720p. There are indeed sharper visuals to be found on the PS4's versions of Battlefield 4, Call of Duty: Ghosts and Assassin's Creed: Black Flag, but you need a keen eye to tell the difference.
Character models often have more detailed textures, and lighting effects can be slightly more impressive on the PS4. However, performance across the two systems is very similar, with equally smooth framerates and load times that are close in length.
The 720p vs 1080p situation is still troubling, Microsoft will need to close this visual gap in future releases. It's something we'll be keeping an eye on as we update this review down the line.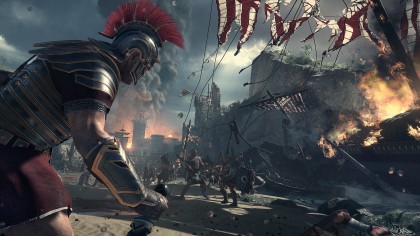 The Xbox One has first-party games that show off just as much graphical gusto as the PS4. Ryse: Son of Rome and Forza Motorsport 5 are just as gorgeous as anything currently available from Sony. Dead Rising 3 is a bit behind the beauty curve but the sheer number of zombies it can render while maintaining a solid framerate is impressive.
Yes the Xbox One is big and powerful, but what can I play on it? A legitimate question, if there ever was one. While the Xbox One is still building up its library, and value concious gamers would do well wait for some discounted Platinum Hits to emerge, early adopters will find enough to scratch their next-gen itch.
For a comprehensive rundown of the best Xbox One currently has to offer, we've created a full separate article called – as you might expect – The Best Xbox One Games. Too lazy to click the link? Here's a handful of the best games available on the system today:
Titanfall
This is the Xbox One's Halo, the game meant to sell systems and get people playing and paying on Xbox Live. It's multiplayer only, so don't pick it up unless you want to in online. If you do though, you won't be disappointed. It's a fast-paced, dynamic showdown of man versus machine versus man inside of a machine.
From GamesRadar's review:
"Titanfall blends familiar concepts with innovative ideas in remarkable ways, leading to a nearly nonstop supply of awesome moments. But for as fun as it is, you'll likely find yourself wishing Respawn was more ambitious when it comes to game modes, since there's a good chance you've captured enough flags for one lifetime."
Forza Horizon 2
Let's face it, Gran Turismo is asleep at the wheel and the only way to put the pedal to the metal is on Xbox One. Forza Horizon 2 is the latest from Turn 10 and Playground Games that allows you to tune to your heart's content or, if that's not you thing, hop into a totally tuned ride and get down and dirty in rally races at the tap of a button.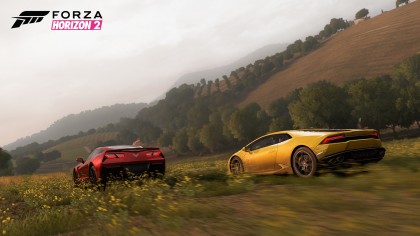 From GamesRadar's review:
"The Forza series is a tale of two different racing games. On the one hand, you have Forza Motorsport, the serious and sterile racing simulator. On the other, you have its Ecstasy-gobbling, Burning Man-attending hip racing cousin Forza Horizon. Apparently, Motorsport convinced Horizon to share some of its drugs, and the two have joined forces to give us Forza Horizon 2: a sprawling open-world racer that can be as arcadey or as sim-y as you want it to be, and is an excellent addition to the series."
Sunset Overdrive
Sunset Overdrive's developer, Insomniac, has been around for a very long time. They're the ones who gave us Spyro, Ratchet & Clank and, more recently, Resistance: Fall of Man on the PS3. Now they've turning to Microsoft's new system for their next project, a combination of raucous punk music and eye-popping color palettes set in what can only be described as a post-apocalyptic playground.
From GamesRadar's review:
"Sunset Overdrive is an exciting, self-confident thrill ride with strengths that easily make up for its weaknesses. Insomniac has proven that it can craft some of the most thrilling open-world acrobatics in gaming, and the upbeat, punk rock attitude dulls the pain of the so-so gunplay and dopey real-world references. Now, if you'll excuse me, I'm going to get back to grinding on street lights and wall-running around skyscrapers."
Halo: The Master Chief Collection
Halo: The Master Chief Collection offers all the value of one of those four-in-one PC games but is, you know, actually fun to play. The Master Chief Collection combines Halo, Halo 2, Halo 3 and Halo 4 and houses them in a completely HD-ified package. You'll get access to every Halo map ever made, too, if you'd rather frag your friends than relive one of the greatest videogame trilogies of our time.
From GamesRadar's review:
"Effectively a Halo jukebox, the MCC's aim is to give you the Halo you want, customised to your own tastes, however and whenever you want it. Whatever your interpretation of, and preferences within, the series, this is your tool for realising them on a whim. A build-your-own-Halo kit of immense value to learned series enthusiast and eager-to-learn newbie alike."
Destiny
Calling Destiny ambitious is a disservice to the game. It's an ambient world (er, galaxy) that operates in real time. It combines single- and multiplayer into a single campaign, seamlessly transitioning between the two. It's from the team that made Halo, so while Destiny may not have the iconic face of Master Chief plastered on the box, it will have the same creative minds doing what they do best: sci-fi.
From GamesRadar's Destiny preview:
"Bungie had a lot to do with what the first person shooter has become today. Now that the developer's time with the landmark Halo series is over, the developer is setting out with a brand new IP. With the company's next project–an open, shared-world shooter called Destiny–it looks like the creators of Master Chief are aiming to change the face of the shooter once again."
Call of Duty: Advanced Warfare
Advanced Warfare may be the biggest change for the franchise since the seminal launch of Call of Duty 4: Modern Warfare. Multiplayer is fast and fierce thanks to the addition of the Exo suit, and the single-player campaign resonates with everyone scared of another international meltdown. Call of Duty has had its foibles, but Advanced Warfare isn't one of them.
From GamesRadar's review:
"Franchise fatigue be damned. Sometimes a game comes into a series and does things a little bit differently. Call of Duty: Advanced Warfare aims to change the formula for the better with a new setting and futuristic tech, and it succeeds with several game-changing features."
Assassin's Creed IV: Black Flag
AC IV: Black Flag is a funny thing. It's both a return to form for the series, and bit of a hard left into full-on pirate mode. Do all the classic Assassin's Creed bits, leaping from above onto unsuspecting prey, then hop aboard your frigate and broadside an enemy ship with a volley of cannon fire. AC IV might be the best AC game, but it's definitely the pirate game ever made.
Note: the above video was crafted from footage of the PS4 version of the game, which looks slightly better. AC IV still looks spectacular on the Xbox One though, trust me, I've played them both.
From GamesRadar's review:
"An ambitious start for Assassin's Creed on next-gen. The vibrant Caribbean world and bloody piracy shine brightest, while the only sour notes come from contrived series story beats and repetitive missions–both need rethinking for AC5."
The Xbox One wants to be the one system that handles all the entertainment in your living room. Movies, music and, of course, games, it's set up to do it all.
From streaming apps to cable integration to Microsoft's own services, the Xbox One certainly seems equipped to do it all. We're just glad Microsoft bit the bullet and put a 3D-enabled Blu-Ray drive in its system. The Xbox One also plays CDs, something the PlayStation 4 currently doesn't do. Still, can the Xbox One really handle the potentially backbreaking load of the living room?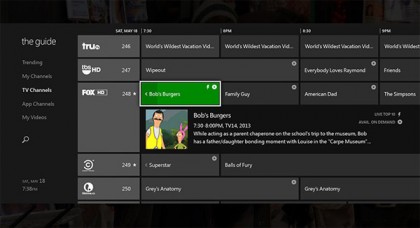 OneGuide and HDMI-in
If you're in North America, the Xbox One can integrate your cable or satellite feed thanks to an HDMI-in port. Anyone who's had cable installed in their home probably shudders at the thought of fooling with that precarious mix of coaxial and HDMI, but fear not, setting it up is easier than finding your cable company's service number.
After connecting your cable box to the Xbox One via HDMI there's a setup wizard to take you through all the steps. All you need to know is your service provider and zip code. Punch that in and the Xbox does the rest.
The result is the OneGuide, live TV on your game console organized a lot like your cable's built-in menu. It can be navigated just like the One's general interface, with speech, gestures, the controller or SmartGlass.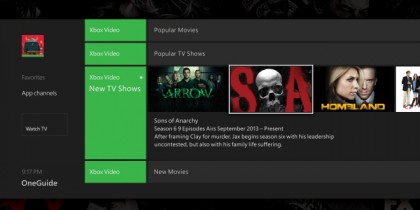 The OneGuide menu is accurate, but not fast. Scrolling quickly often gives you an empty menu that needs a few seconds before the listings pop in. We've never had that problem with our DirecTV menu. If you only watch a few channels, the OneGuide's favorite list will serve you well, and if you're just want a "best of" option, Microsoft will start offering a curated list of content called "What's On."
Using Kinect commands with the OneGuide can also be a headache. While it easily understands page up or page down, telling it to go to specific channels can be rather inaccurate. It often tripped over all the different acronyms that make up station names, and sometimes struggled with something as simple as Comedy Central.
Our favorite part of the Xbox One's cable integration wasn't the OneGuide, is was being able to save specific channels and movies to our Pins for fast access. We also liked how TV listings were integrated in search results alongside streaming services. For example, if you used Bing to search for a movie, the results will include the next time it's showing on TV, as well as places to buy or rent it.
The Xbox One is also hit or miss with 5.1 sound integration. There's some extra configuration you have to work through, and while we were able to get it running, others have reported that it degrades sound quality, or just doesn't work at all. That part of the service is marked as in beta, so Microsoft is working on it.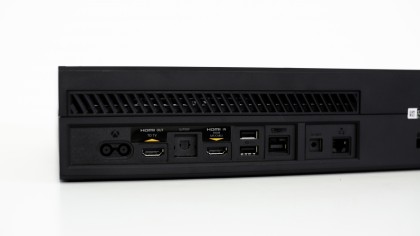 Lastly, while that HDMI-in is meant for TV, you can use it for anything with an HDMI port. Before you get too excited, we should tell you that it's slightly too laggy for gaming. Forget about playing Killzone: Shadow Fall or Super Mario 3D World via the Xbox One, it's a much better experience plugged directly into your TV.
Streaming apps
When consoles aren't playing games they're often streaming movies, either through Netflix, Amazon Instant or Hulu Plus. While it's still waiting on some key apps, the Xbox One wrangles that functionality by letting you search for programming across all your services, as well as your cable.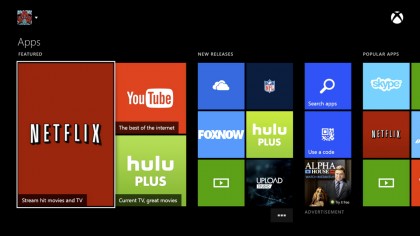 This runs through the Bing search function. Either by typing or talking to Bing, you can ask it for, say, Breaking Bad. The search results show you all the places where you can see the sad saga of Walter White.
For us, that meant that it was available on Netflix Instant. It also reminded us that we had a few episodes in our Amazon Instant library, we saw links to buy episodes on the Xbox Marketplace and got a heads up about reruns on AMC over the weekend. All these options were presented in one result page.
It's not a perfect all in one search tough. When we asked Bing for The Matrix, it showed us when it would be on TV, and gave us links to rent it from Xbox Video, Vudu and Redbox Instant. We didn't even have those last two apps installed. Meanwhile it ignored Amazon Instant, an app we'd been using, which had it for rent at the same price.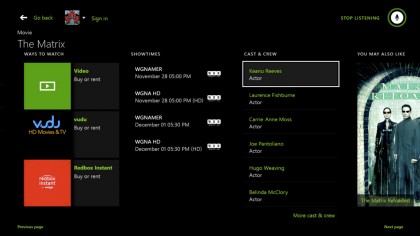 Streaming video services are hugely segmented. It would be fantastic to have a search that can present all the options in one place. Bing search comes close, but still overlooks certain media options, so you can't rely on it 100%.
For streaming apps, Xbox and PS4 are neck and neck. Both have the big guys like Netflix, Amazon and Hulu Plus, however, HBO Go recently launched on Xbox One, giving it one leg up on the competition. While PS4 has separate NHL and NBA apps, Xbox has ESPN. Right now, though, only Xbox has an official NFL app.
What about users who have their own media collection? The Xbox 360 offered users numerous services to stream movies and music from a local server to their system, but until now Xbox One gamers were forced into using the proprietary Microsoft media player app. Flex, a service similar to XBMC, will be the next generation of media center apps – and it's available only on the Xbox One starting in October. (Editor's note: We'll update this review once we've set up our own media server and tested the software.)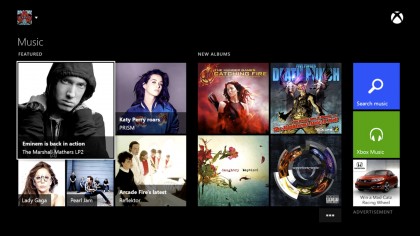 Xbox Music
Sony has Music Unlimited, Xbox has Xbox Music, and both services are doing their best to impersonate Spotify. Xbox Music has a library of comparable size, just like Spotify it charges $10 a month for unlimited streaming across your console, PC, phone and tablet.
When we reviewed the PS4, we noted how poor the Channel (radio) service was at finding music we liked. Xbox Music's Radio function is much better at song matching, but its Sony's Music Unlimited that has the better background interface.
To have music going while playing a game, Xbox Music relies on app snapping. That's a pretty nonsensical choice, since it forces you to give up precious screen space for an app you only need to hear, not see. Why on earth doesn't it just run in the background?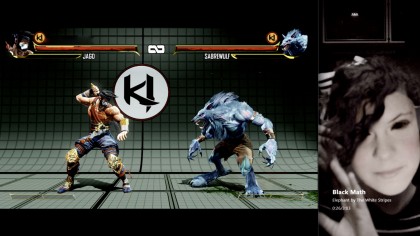 Other than that it's a fine music service. While playing in full screen on your TV it cycles through sharp looking album art and band photos. You can listen to whole albums, or create a radio mix. If you're playing a mix, you can zoom out and see the songs that are coming next.
Still, the lack of proper background playback is a deal breaker. While it's a fine way to just play music if your Xbox One is hooked into your stereo, it's not a great way to hear tunes while playing some Killer Instinct, which seems like the whole point of putting music and games on the same system.
Hopefully Microsoft will patch in some background functionality. Until then you're better off with a separate music service.
Microsoft introduced Xbox Live at the tail-end of the original Xbox's shelf life, but it was on the Xbox 360 that it became the fleshed out, full featured online service that we know today. Now that more and more console features are internet dependent, a strong web connection, as well as buying into the console's online service, is a basic requirement.
Xbox Live
For the majority of the last console generation, Xbox Live was the reigning king of online gaming networks. Offering dedicated multiplayer servers and a new game every month, Xbox Live may not have been free like PSN, but PlayStation owners got what they paid for.
Xbox Live on Xbox One is a precarious proposition. It still offers everything that made it so great in the past but, now that the system is more internet-dependant than ever, there's even more that's walled off until you pay up. This means you won't be able to use new services like Game DVR to upload videos or utilize cloud saving until you upgrade to Gold. Worse, you won't even be able to participate in party chat until you've given you've paid your yearly pittance to Microsoft. And if you're not already a member, Microsoft won't let you forget about what you're missing. You'll find advertisements plastered all over your dashboard that have the same message: Get Gold and you'll have a better time.
The good, probably expected, news is that your account from the Xbox 360 will carry over to the Xbox One and, better, if you still have your Xbox 360, your account will have Gold no matter which system you're using. You'll also be entitled to four potential games per month, two on Xbox 360 and two on Xbox One. Xbox Live's most basic services should look familiar to what you knew on the 360. You can message friends, join groups for voice chat or send typed-up messages. However, Microsoft no longer lets you record and send audio messages.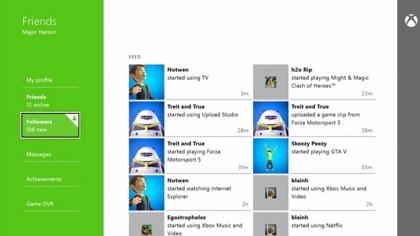 Downloading a digitally purchased game from Xbox Live is just as swift as on Sony's servers and, starting in August, can even be done remotely via Xbox.com or SmartGlass. Back at home, games can be played in mid-download, letting you dive into titles before the massive files finishes arriving.
The only real problem we see is that updates are continuously rolling onto the system. It seems like every time we go to turn it on, it needs another 70-plus MB update in order to watch a simple YouTube video. Of course the point could be made that we can always leave the system in standby mode to circumvent all the updates, but honestly, a system shouldn't need an update every two days.
When you finally do decide to join up with Gold, it feels like a luxury service. Free games every month, plus dedicated servers that ensure smooth online gameplay. It may not give you exclusive access to upcoming demos like PlayStation Plus once did – for that you'll want to look at EA Access – but Xbox Live Gold generally still feels like a good value.
As much as we'd like to think it is, the Xbox One isn't radically different from one year ago. It's still Microsoft's ambitious all-in-one media center that has hopes for conquering your living room. It's still got the better console-exclusive games and paid online service. But it's also improved since then, too. It's $150 cheaper if you're buying a system without a Kinect and the changes to Snap, Game DVR and the interface were all welcome, coherent upgrades.
It's still not perfect, though. At its core, the Xbox One is an Internet-dependent box that needs a subscription to Xbox Live Gold to get anywhere in most games. Destiny and Titanfall, two of last year's stand-out games were completely sterile experiences without an Xbox Live Gold subscription. And while the constant updates from Redmond have given gamers good reason to choose Xbox over Sony, I have reservations whether any software – DirectX 12 included -will be able to improve the inferior hardware. Decoupling Kinect and the $150 price drop will ultimately save the system, but doing so was a slap in the face of early adopters.
Being four million units behind in sales has put a fire under Microsoft, leading to more updates and more exclusives than its closest competitor. So, you ask yourself, is it worth jumping in now at $349 or wait just another six months to see if I can get a cheaper bundle down the road? Let's break it down.
We liked
Even though Sony has the market cornered on the whole "for gamers, by gamers" phrase, Microsoft makes a pretty compelling case for the title. With more platform-exclusive games, an eye on the indie scene and its promotional Games with Gold deal, the Xbox One is a game console any gamer could love. Games like Forza Motorsport 5 and Sunset Overdrive are a visual feast with plenty of depth and pair nicely with the Game DVR feature, and upcoming games like Halo 5: Guardians and Crackdown have us on the edge of our seats with anticipation.
One of its biggest strengths is that the One has tapped into the social media zeitgeist where we want to share, upload and promote everything we see and do on a console. Plus, with Twitch we're able to stream to our heart's content, all without the need for peripheral hardware.
The Xbox One feels more like a media titan today than it did 12 months ago, and that's something everyone involved should feel good about. That's due, in part, to Microsoft lifting the Xbox Live Gold requirement to access apps like Netflix, HBO Go and Amazon Instant video. That said, Xbox One is the best place to see TV alongside streaming media. Being able to perform a Bing search for a show and see when it will be on next as well as the places to rent or buy it is fantastic. There's still a ways to go here, but the fact that we can seamlessly switch from streamed content to live TV to live streaming our own gameplay all in a matter of 30 seconds is no small feat.
Finally, exclusive deals with EA and Activision have given gamers who swore fealty to Shepard or feel the need to be the first to play Call of Duty's new maps a place to call home. EA Access offers tremendous value for those of us who don't mind playing some older titles, and gives you access to certain titles five days ahead of everyone else.
We disliked
We don't don't know about you, but we're not in love with the idea of monolithic system taking up a quarter of our media cabinet. The Xbox One is big, bulky a looks like it was designed to replace the VCR, not the Xbox 360. The controllers, thankfully, are much different story. They're loads better than they were before, both tightly tuned and laser precise. What's lacking, though, are built-in rechargeable batteries and visual indicators of who's who on the controller itself. It's easy to forgive Microsoft for forgetting these one or two minor details, but the fact that the solution – a play and charge kit – is out there and they charge an extra $25 for it, is slightly insulting.
But the controller debacle is only half as insulting as the way Microsoft handled Kinect. Once a mandatory pack-in, Microsoft heralded Kinect as the future of gaming and a vital part of the next-gen experience. Nine months down the road however, Microsoft chops the Kinect from the bundle, tells us that it actually frees up some extra memory and puts a new package, sans Kinect, for $100 less.
Moreover, Kinect commands in general are very rigid and only helpful once you've taken the time to learn the syntax verbatim. We weren't expecting Siri, but you have to talk to it in very precise, often unintuitive ways to make it understand.
Xbox Live hasn't improved much since the Xbox 360, and too many of the Xbox's best games are walled off if you're not a Gold subscriber. Xbox Live Gold is so essential to the system that it should almost be mandatory at checkout. And, if you're not already a member, Microsoft won't let you forget about what you're missing. You'll find advertisements plastered all over your dashboard that have the same message: Get Gold and you'll have a better time.
It also doesn't help that the system constantly needs to update something. It seems like every time we go to turn it on, it needs another 70-plus MB update in order to watch a simple YouTube video. Of course the point could be made that we can always leave the system in standby mode to circumvent all the updates, but honestly, a system shouldn't need an update every two days.
Last but not least, some third-party titles run in 720p or 900p and suffer from pop-in and stuttering, and that simply shouldn't be the case on a next-gen system. You might need to pause the game and have a look to tell, but there are noticeable differences between Xbox One and PS4 versions, with the PS4 coming out on top.
Final verdict
Xbox One is finally picking up steam. It's moved to sell at $350 and there are a plethora of great, platform-exclusive games ready to pick up right now, not down the road in 2015. It's the best place for media enthusiasts with DLNA support, removed Xbox Live Gold requirements to access streaming services and the much-improved OneGuide. There's still a lot of potential locked away inside the hardware of the system that developers are just beginning to figure out. So while PlayStation might have the upper hand for now when it comes to certain third-party titles, it may not always remain that way.
In truth, Microsoft hasn't had the best year. But progress is painful, and that's what we've seen. Thanks to reduced pricing and clearer consumer messaging it's likely that Xbox can brush the dust off before entering the next year of its lifecycle, which will be full of great new games like Halo 5: Guardians, Evolve and Fable Legends. Microsoft, at least in the gaming world, started with nothing and made it this far, so anything and everything is possible if it's motivated to see it through.
The world is yours, Xbox, all you need to do is reach out and take it.
First reviewed November 2013

Source: TechRadar